surfboard extras:

all prices are in Australian dollars
tint $40 per colour each side
spray price on consultation
polish option:
-$150 extra for longboards
-$100 extra for shortboards
mall orders require a 50% deposit with balance on completion
freight prices: due to covid freight prices are only on inquiry that day they are nearlly double to pre covid
airport pickup
prices for biggest box 320cm x 66cm x 36cm which holds a 10 foot 1950's pig this box can fit a second board as well, this size box cannot be deliverd to the door (300cm length limit) airport pickup only
AUSTRALIA
Vic:
to your door
box size 300cm x 66cm x 20cm $195 (9'6" maximum length and fin box or FCS only)
WA:
to your door
box size 300cm x 66cm x 20cm $280 (9'6" maximum length and fin box or FCS only)
TAS:
to your door
box size 300cm x 66cm x 20cm $280 (9'6" maximum length and fin box or FCS only)
NEW ZEALAND
auckland $400 (fixed fin pig)
USA
to your door anywhere in USA
box size 300cm x 66cm x 20cm $560 (9'6" maximum length and fin box or FCS only)
box size 225cm x 66cm x 20cm $450 (7'0" maximum length and fin box or FCS only)
west coast:
Portland & San Francisco & Los Angeles $390 (fixed fin pig)
Portland & San Francisco & Los Angeles $450 (12' glider)
Gulf Coast:
Houston $550 (fixed fin pig)
East Coast:
New York & North Carolina & Miami $550 (fixed fin pig)
HAWAII
honolulu $350 (fixed fin pig)
JAPAN
Narita $400 (fixed fin pig)
ENGLAND
heathrow $460 (fixed fin pig)
$380 (box size 300cm x 66cm x 20cm 9'6" maximum length and fin box or FCS only)
bristol $510 (fixed fin pig)
$430 (box size 300cm x 66cm x 20cm 9'6" maximum length and fin box or FCS only)
CANARY ISLANDS
Tenerife $630 (fixed fin pig)
PORTUGAL
Oporto $560 (fixed fin pig)
Lisbon $470 (fixed fin pig
mikes pickup story
the video above shows the trip to the airport to pick up the box from united airlines cargo. we had family in town, so i followed them to the airport with my daughter so she could give her bff and cousin a final last hug at the air port. i had been speaking to the people at United Airlines (UA) to get an understanding of what all is required to grab the board. from what I had gathered from my 8 phone conversations with them, it seemed like bringing my daughter could be a reasonable thing to do. after we dropped our family off at the rent a car place my daughter and i proceeded to the UA cargo address. i signed my name on a sheet of paper and waited to be called on, I was helped with in a few minutes. they gave me some papers and told me to drive about .7 mile away. this was a Monday in August, and i was on Century Blvd at LAX . the .7 mile journey took half an hour. we arrived at the customs place, i grabbed a number and felt like i was about to drag my 6 year old daughter through a DMV experience. however, a customs officer called me up immediately. i filled out a few papers, gave him the papers that UA cargo gave me, he took my ID and made a copy of it, he stamped my papers, handed back the papers and my ID, told me to go back to the UA cargo desk. the entire customs event took less than 10 minutes. I drove the .7 miles (30 minutes), went back to the desk and handed them the stamped paper. i had to pay $50 for an import fee. the gave me a pick up form and told me to walk into the warehouse and hand the paper to a forklift driver. at this point i was like "...come again?". the lady says "take that paper into the warehouse and hand it to a forklift driver". so i walk into the warehouse. there are about 15 large truck drivers standing around with papers in their hands and their are forklifts driving all over the place. i had no idea who was first in line, if their was a line, and what was the protocol to get my paper in the hands of a forklift driver. at this point, my daughter is exhausted. i am carrying her in one arm. she is asleep. i got my paper in the other arm. one of the truck drivers told me to have a seat. i followed his instructions. my daughter was sleeping on my lap as i proceeded to wait. after about 30 minutes , a couple of the truck drivers started to explain how i could tell what forklift operator worked for UA cargo and which forklift operator worked for EVA. that helped quite a bit. eventually i was informed what the order of the line to get served was. after waiting 1.5 hours in a warehouse with my 6 year old daughter UA cargo had serviced 4 of the 9 people in front of me. i arrived there at 3 pm. it is now 4:30 p.m. the next truck driver to be serviced asked me how many packages i had to get picked up. i told him 1. he gave me his place in line. fucking gentleman. my daughter thanked him. i get the box loaded onto my jeep, i had to double up my straps. i was about to raw dog my tumultuous journey back through the orange curtain with a giant box stopped to the top of my jeep with only one strap. i figured i had a chance of it working given i would obtain a max velocity of 15 miles and hour for the next 4 hours as i would surely be caught in some of the worst traffic on the planet. however, a random truck driver observed my predicament and offered up a strap. i was shocked by the courtesy of the strangers. we get on the road and make it home safe. long day. pieter packed the board superbly. every other manufacturer around the planet that ships logs should pack them this way if they are shipping individual boards. i'm guessing there are other ways to protect a board from being damaged, but this technique can't be improved. i'm not sure what cost we saved by having me go to LAX. as i learned , we shipped this board as "general" cargo. general cargo flies on standby essentially. had we book it "express" it would had made the flight i was told it was going to arrive on. the board came 3 days later than i was originally told. UA cargo did have capable humans to speak to. their customer service is sufficient. i am not sure about the cost difference that the shipping would have incurred had we booked this board as "express " vs "general". above and beyond this discrepancy, the people at the cargo desk at UA told me I could have hired a "broker" to do all the paper shuffling and warehouse waiting. i suppose this broker would also hire a truck driver to drive the board to my house. i'm guessing the express vs general and the hiring of a broker and driver would have increased the shipping price significantly. all said and done, i had a nice day hanging with my daughter, and i received a beautiful surfboard in perfect condition from Australia.
jeff's pickup story
February 2, 2017

Today I picked up my 9'8" 50s pig that Pieter shaped and I wanted to share my experience as it might be helpful to you if you decide to import a surfboard through LAX.
Let me back up and first say that working with Pieter on this board was a pure joy. His communication was incredible and he was extremely patient through numerous design rounds and a lot of ridiculous ideas (of mine). I have been on his end where the client has a lot of far out concepts that aren't practical or possible and he was amazingly tolerant and accommodating.
Step 1 – Make sure the eagle has landed
Track your board through unitedcargo.com and ensure that it both left Australia and arrived at LAX. You can find your tracking number on the Air Waybill that Pieter will send you. Note that the arrival time is when the plane lands and not when your board will be ready for pickup. You need to allow four hours from when the plane lands before you can pickup your board.
In addition, you have 48 hours from when the plane lands to pickup your board. This isn't a big deal, as Pieter will confirm a convenient arrival date with you prior to shipping. I believe United will change you a storage fee if you pick it up after 48 hours. However, if you are willing to let your board sit around then clearly your stoke level isn't high enough and you should probably reevaluate your entire life.
Step 2 – Print your Golden Ticket
Print your Air Waybill and bring this with you. There is no way to have a successful mission without this document!
Step 3 – United Cargo (customs paperwork pickup)
Go to United Cargo located at 5932 W Century Blvd. Los Angeles, CA 90045. They are open 24 hours / day. When you drive in you will notice the below entrance on your left hand side. You are looking for the single warehouse door at a loading dock located just beyond this entrance. Try to park on the loading dock or close to it to avoid a ticket.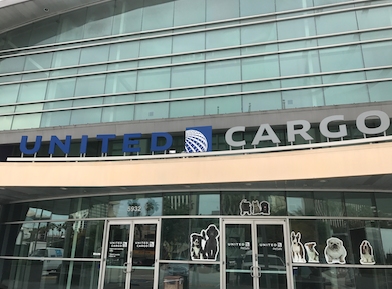 Once inside, walk up to the counter and tell them you are there to pickup a surfboard and need to get your customs paperwork. They won't call you, so you need to be somewhat assertive here. They will give you customs paperwork and tell you to return once it has been stamped. Time spent – 10 minutes.
Step 4 – Obtain stamp from US Customs
Drive to the US Customs office, which is located at 11099 S La Cienaga Blvd. Los Angeles, CA 90048. This is just over a mile away. Time spent – 5 minutes. Below is an image of what you're looking for.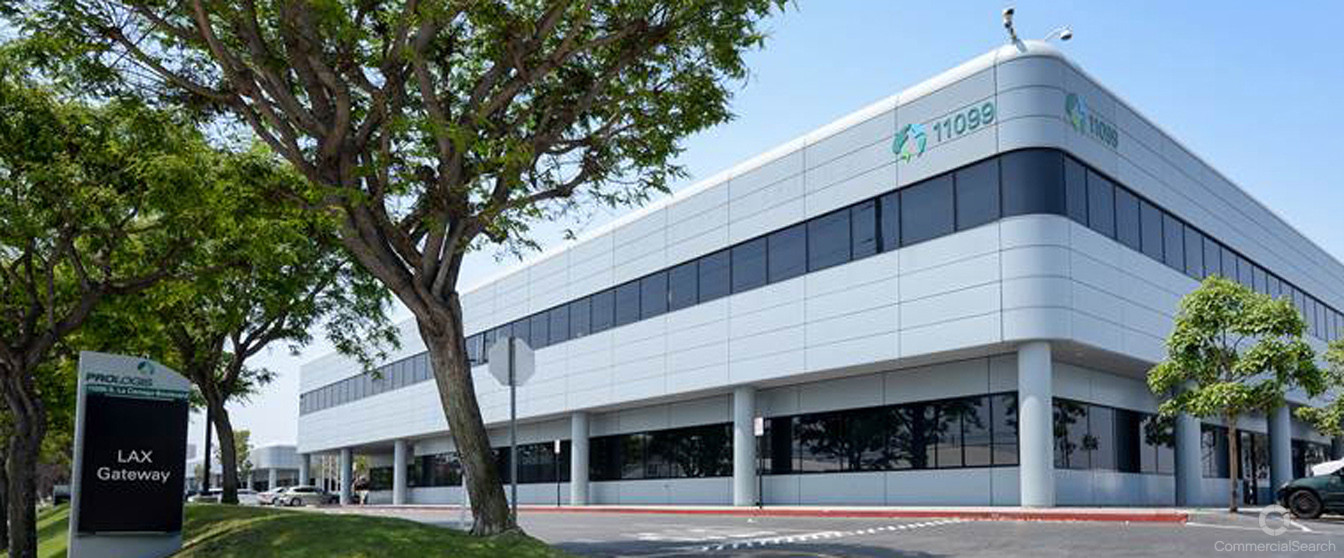 Park in one of the spots marked 20-minute visitor parking. While they are open 24 hours / day, they do take a lunch break from noon – 12:45pm. Once inside, grab a ticket from the window to your right and wait to be called.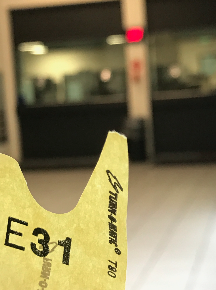 Once called, the officer (yes, they have a gun) will ask your intentions and I suggest that you tell them that you are there to import a new surfboard from Australia for yourself. They will ask for the paperwork that United just gave you, an ID and a bill of sale. If you don't have a bill of sale, then they will give you a form to fill out. They will ask you to sit down and then call you back to the counter and give you back the stamped customs document. You don't have to give them any money. Time spent – 20 minutes.
Step 5 – Return to United Cargo
Go back to United Cargo and give them the stamped customs form. They will then ask you to sign in and you will fill out various forms and give them a $50 handling fee. You now need to figure out who is in front of you waiting for pickups. Again, be assertive and ask. The united employee was extremely nice and did this for me. Eventually, you will give one of the forms to a forklift operator and they will bring out your boxed board. Time spent – 10 minutes.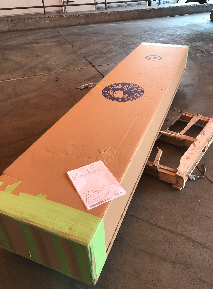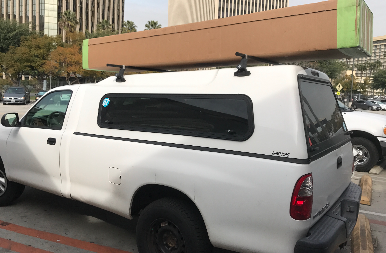 Step 6 – Try to contain yourself until you get home to unpack your board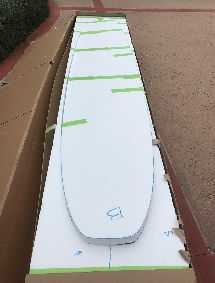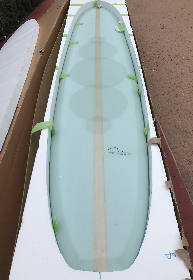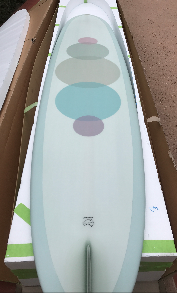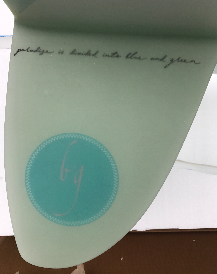 The board arrived in perfect condition and the only thing left to do is shred!!!
---